Padavedu, is a calm and scenic place that consists of 17 villages encircled by Jawadu hills, river and other water bodies, paddy, coconut and plantain fields. There are more than 10 ancient temples with Renugambal temple as the most popular of them. This is one of the Sakthi sthalams of Thondai mandalam. TVS Group has adopted this village about 20 years back and all the temples are being maintained very cleanly by a Trust owned by them. This is one of the cleanest places ever seen and is a definite model for other temples to follow [It is a known fact that the Nava Thirupathis of Thirunelveli are also being maintained by this very same TVS Group]. A pilgrimage worth the effort.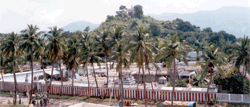 Padavedu is centrally located among Vellore, Thiruvannamalai and Arani in the Vellore - Polur (Thiruvannamalai) route. While going from Vellore, there is a junction called Santhavasal at 32 km from Vellore town and from this junction you have to turn right (towards west) and travel further for about 6 kms to reach Padavedu.
Note: Normally there is no need to go through Vellore and the shortest would be through Arcot - Arani but since the road is being laid in that route, it is better to go through Vellore now.
Here is the wikimapia locational map of the temple.
Highlights:
Padavedu is the avatara sthalam of Parasuramar, one of the Dhasavadharams of Mahavishnu
There are more than 10 ancient temples of 12th century
Sri Renugambal Temple is one of the important Sakthi Sthalams
Ramar is seen in a meditative posture with 'Chin mudhra' in Sri Yoga Ramachandra moorthy temple
Sri Varadharaja Perumal temple and Sri Ammayappar temple were once buried under the sand and have been excavated and renovated
In Subramanya Swamy temple, Lord Subramania is seen standing on his peacock. Legend has it that Lord Subramania was conferred the title "Deva Senapathi" only on this hill top at the behest of Goddess Renugambal.
Sri Lakshmi Narsimhar temple is having Goddess Laskhmi seated on the right lap of Lord Narasimhar (usually She will be on the left lap)
Sri Kailasa Vinayagar temple where the Vinayagar is about 5.5 feet high
Sri Kailasanadhar Temple is where Lord Shiva is seen with Uma devi in human form but unfortunately in a vandalized condition.
Sri Venugopla Swamy Temple that is on a picturesque hill en route a beautiful forest with a few hanging bridges
Vel Temple is where 'Vel' consecrated by Siddhar Bhogar is present
Sri Veera Anjaneyar temple is where there is a beautiful 8 feet tall Anjaneyar

One can imagine the scene - a temple outer praharam with around 3 feet width brick platform neatly laid out all around for people to walk. Trees and flower plants in a row at the edge near the compound walls and the entire outer praharam filled with fine river sand absolutely clean without even small stones, single leaf, or any other plant waste! Just relaxing by sitting on the sand with your family, is a real pleasure indeed! It is indeed marvellous to note the exceptional manner in which the TVS Group is maintaining ALL the temples here in Padavedu. Commendable indeed!
TVS has really shown to the corporate world how they can participate in the social upliftment programs. Many IT companies that were the dream companies in the early 80's, have gone into dust now. You will not know these companies even by names today. One of the reasons for TVS remaining a time-tested group without losing its sheen for so many decades is definitely their social involvement, such as these. The IT and other companies should not only engage in capitalizing on the real estates at rock bottom prices from the Govt., but should follow this TVS Group , as their role model. After all, temples are not only for worship, they remain as the backbone of village economy, a common social place, an instrument for the unity and peace [sometimes it is the opposite as well], for the good conduct of the villagers instead of falling into wrong paths in life.
Distance:
From Chennai
Chennai (Adayar) to Vellore Highways junction - 142 km
Vellore Highways junction to Santhavasal - 37 km
Santhavasal to Padavedu Renugambal Temple - 6 km
From other places:
Thiruvannamalai to Padavedu - 55 km
Aarani to Padavedu - 23 km



Exploring the Rich Temple Heritage of Tamil Nadu